Welcome to the official music website for Vermont recording artist, John Heartson.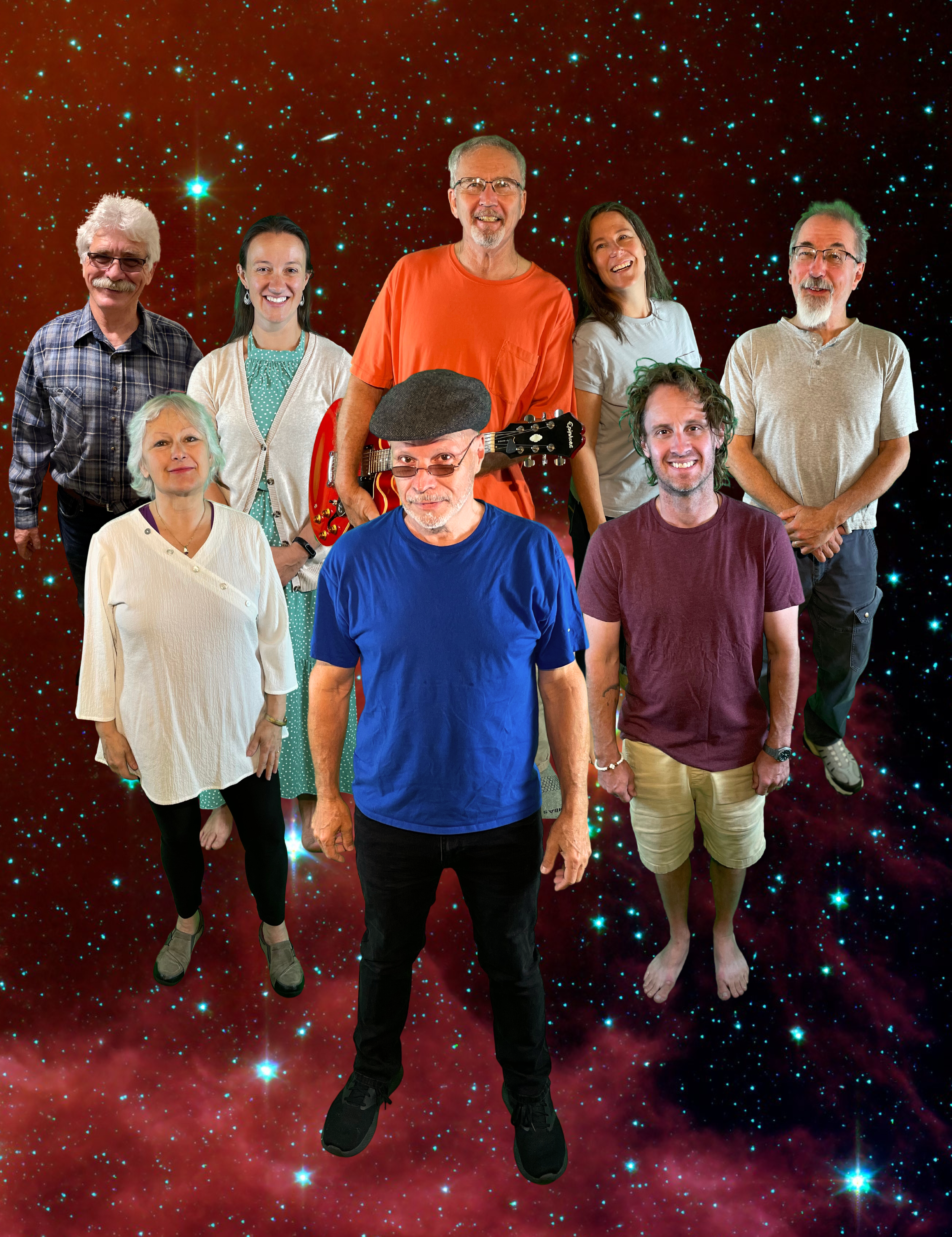 Upcoming Live Show October 27, 2023
For Immediate Release
"Musicians Unite for Vermont Benefit Concert"
Lyndonville, Vt – Dreamery Productions proudly presents "Return to Love," a NEK Benefit Concert where 100% of ticket sales will benefit Umbrella, VTFoodbank and H.O.P.E . The concert will take place on Friday, October 27th, at 7:00 p.m. at the Alexander Twilight Theater located on the campus of Vermont State University – Lyndon.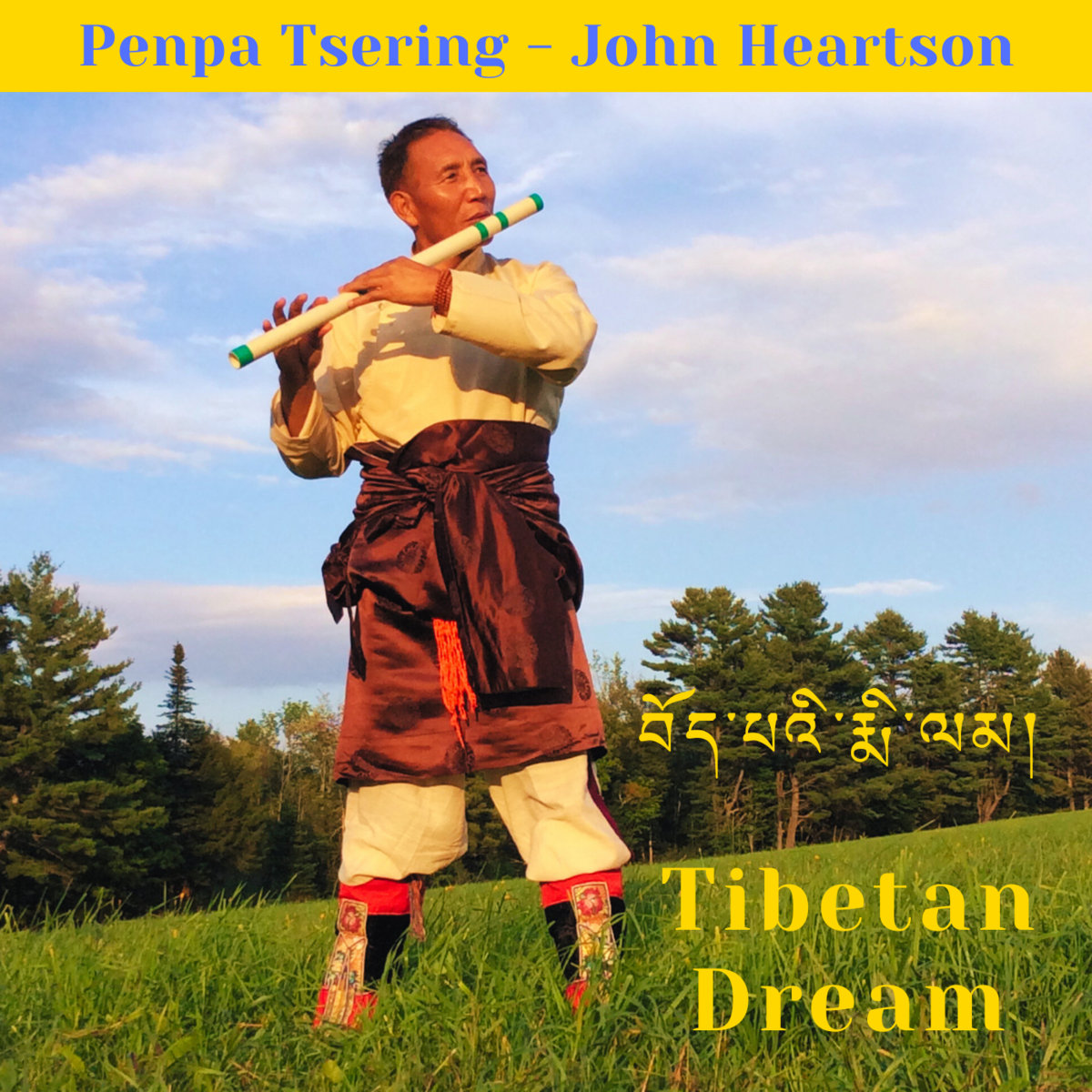 Prepare for a night of exceptional music and unity as master Tibetan musician, Penpa Tsering joins West Barnet-based music producer, John Heartson to open the show with healing music from their collaborative album, "Tibetan Dream."
Then the eight piece "John Heartson Project" band, will take listeners on an unforgettable journey through time with an eclectic and entertaining mix of powerful original music. There will be special guest appearances by Genuine Jamaican – Derrick Samuels, and folk group Fifth Business members. All 14 musicians will join together for a stellar ending to the show.
"I envisioned this concert as a means of supporting Vermonters in need," Heartson said. "What began as a dream last January has become a reality, thanks to the unwavering support of 14 talented musicians who eagerly volunteered their time to rehearse and prepare for this extraordinary event."
A limited number of VIP seats include access to a "private catered reception with the band" after the concert. Concert goers can also donate more for tickets during checkout since 100% of ticket sales go to VTFoodbank, Umbrella in St Johnsbury and H.O.P.E. in Lyndonville
To purchase tickets, click here: https://www.catamountarts.org/show/details/return-to-love/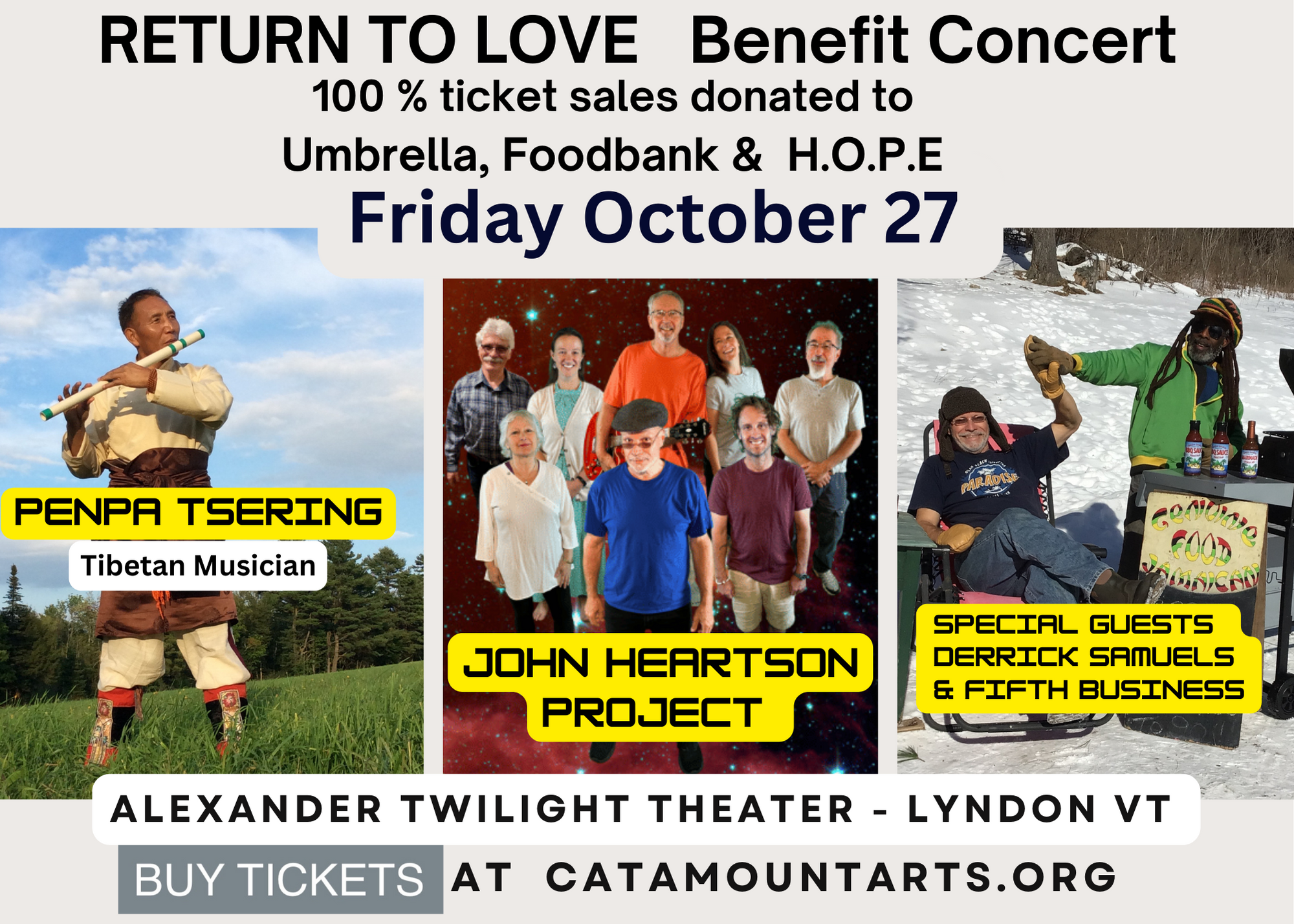 ###
Dreamery Productions is a full-service recording studio located in West Barnet, VT, dedicated to enhancing and capturing the unique sound of musicians. It offers a range of services including tracking, mixing, mastering, and even budget-friendly music videos. Their high-tech expertise, creative support, and extensive experience ensure that music shines with 3D mixes, standout vocals, and well-crafted arrangements. Dreamery Productions provides a relaxed and comfortable environment, and its "Stay & Play" recording studio with attached guest facilities makes it an ideal choice for singer-songwriters, indie bands, vocal groups, and artists across various genres, whether you're recording a demo, album, or music video. Click here for more information: https://dreameryproductions.com/wp/
Sponsers: Special thanks to the sponsors that are helping to make this happen.
VT State University Lyndon Music Business and Industry
Jeff Berwick Berwick Agency Inc
Karen Fitzgerald Sunshine Catering
Dreamery Productions Recording Studio

Details:
Last January music producer John Heartson of West Barnet had a vision. He saw himself joined with a large band of musicians including Tibetan musician and friend Penpa Tsering. He envisioned them performing to a packed house at the Twilight Theater at VT State University- Lyndon, for the sole purpose of raising money to help feed, clothe and protect Vermonters in need. Heartson, owner of Dreamery Productions recording studio, has recorded and produced many musicians in the region and he is also a lifelong songwriter and recording artist. He said "I shared the idea with my musician friends, hoping they'd talk me out of it, because it seemed impossible. But one by one, they each said, "That sounds like a great idea! I'll help you."
He met with college Professor, Brian Warwick in February to discuss the concept, who also said, "great idea, the college will support the project" In the months that followed, Heartson found 14 talented musicians that have been volunteering their time to relearse and prepare for this exciting event. The Twilight Theater is booked for 7:00 PM Friday October 27, 2023 and you can BUY TICKETS at CATAMOUNTARTS.ORG
The show will open with world class Tibetan born musician, Penpa Tsering who recently released a new album of healing Tibetan music, produced by Heartson. Penpa plays a wide variety of hand made flutes of all sizes, Tibetan stringed instruments and also does "Throat Singing"while performing in traditional Tibetan clothes.
Next, the eight piece "John Heartson Project" band will take the stage and take you on a musical journey with soulful and eclectic originals of pop, ballads, rock, techno, blues, reggae and cosmic groove with lush textures and harmonious vocals. You will hear the influences of Pink Floyd, Alan Parsons, Moody Blues, and Beatles to name a few
"A musical work of art and genius……with heartfelt messages of hope and love" – Boston Live Review of "Beyond the Stars" album by recording artist John Heartson.
There will even be a guest appearance by our very own "Genuine Jamaican" Derrick Samuels, who will join John and the band on stage to perform their regional reggae hit, "In Vermont" as seen in the recent music video. Also Heather Alger, Nick Anzalone, Stuart Corso and Steve and Kate Davie of Fifth Business will join the band for several songs. The show will end with all 14 musicians on stage performing "We Want the Love to Return"
A limited number of VIP seats include access to a "private reception" after the concert. Concert goers can also donate more for tickets during checkout since 100% of ticket sales go to VTFoodbank, Umbrella in St Johnsbury and H.O.P.E. in Lyndonville
Don't miss out on this memorable experience! BUY TICKETS at Catamountarts.org